Spoofy
Spoofy is about a dog, a very special dog. He was born on a bush farm over forty years ago and when I and my family arrived in Australia, Spoofy was almost the first to welcome us to a country which was to be our home for the next two years.
I had been posted to the Royal Australian Naval Air Station just outside the small country town of Nowra, 100 miles south of Sydney. Within days of our arrival, Spoofy had found us walking in a park. He attached himself to us, came home with us and visited every day until we discovered that his owners were going to England for two years and couldn't find a home for him. Clearly he had been working on this and he came to live with us.
The book is about a hectic two years in the life of a young family who have had to leave behind their own much loved Border Collie and who suddenly find themselves taken under the guardianship of a big, tough, resourceful Black Labrador who has a big heart and a character to match.
While Spoofy is the star of the story, his adventures and the adventures he imposes on us are inevitably set against the background of my job flying helicopters. The story describes some of the hilarious humour that seems to surround the men working on the air station as well as one or two more serious events. I find myself led into a situation which results in chopping off a whip aerial from an Australian frigate with a rotor blade, generating an enquiry that becomes a witchhunt. When I believe that retribution is about to fall on me the tables are turned and not only am I exonerated but I am promoted to the position of Squadron Senior Pilot. This puts me in charge of the squadron's flying and also comes with a welcome boost in pay.
The whole story is threaded with the experience which is rural and outback Australia. We travel extensively, encounter aggressive snakes and spiders, huge crabs and deadly fish. Our ninety-six year old neighbour keeps us supplied with fruit, nuts, and stories, we climb a mountain, get free drinks in various wineries, spend Christmas in an outback pub along the Birdsville Track, always returning to our faithful companion to help us continue his battle with our landlady.
Buy a signed copy of Spoofy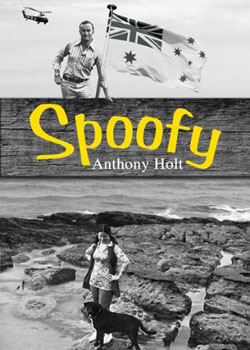 This is a charming and very well written book, and not only of interest to dog-lovers. It follows the adventures of Spoofy, and his Pommie minders, during the writer's hectic two-year stint down-under with the Royal Australian Navy. The central character takes on a life of his own within the book, and the reader shares the many joys and woes of caring for such a canine extrovert (as well as an inquisitive toddler). This was easy to read; but very hard to put down!
Spoofy is a delightful tale of a dog who ensures that the world runs in a way that supports the manner to which he has become accustomed. It was Spoofy who adopted people not the other way round. In his case he had adopted an Australian naval helicopter pilot and his family but they were then posted for two years to the United Kingdom. Quite coincidentally, a Royal Navy helicopter pilot was posted to Australia, so it was obvious that Spoofy would adopt him and his family. The book describes their lives during the two years of this posting and fills in the details of Spoofy's earlier life and subsequently. There are hilarious tales of the scrapes into which the author and his family were led. This is a can't-put-it-down story.